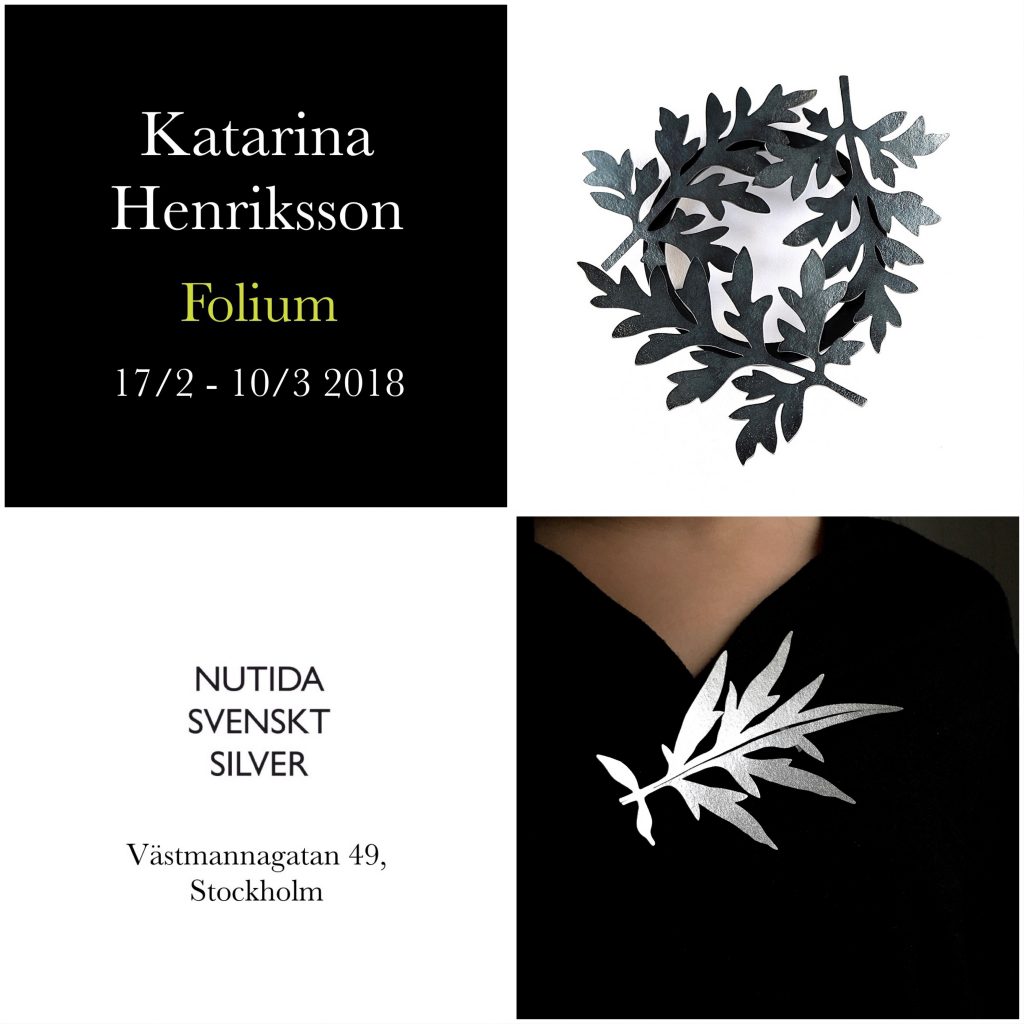 Scroll down for english version.
Lördag den 17 februari är det vernissage på min utställning "Folium" på Nutida svenskt silver i Stockholm. Jag visar en samling smycken med inspiration av löv jag samlat genom åren. Utställningen pågår t.o.m den 10 mars.
"Under några år bodde min familj och jag i ett annat land. Jag följde barnen till och från skolan varje dag. Längs vägen växte olika sorters träd och jag följde dem genom årstidernas växlingar. Jag började att samla löv, både från träden och ogräs som växte under dem. Hittade jag ett löv eller blad med intressant form så sparade jag det. Samlandet av löv har fortsatt även sedan vi flyttat tillbaks till Sverige och på resor runt om i världen har jag hittat fler. Allihop har jag samlat mellan tidningssidor.
Jag upptäckte att samma former på löv finns på olika platser i världen. Liknande former kan finnas på ogräs och trädgårdsväxter. På vissa platser kan en växt betraktas som ogräs och rensas bort. Någon annanstans planteras den med omsorg i en rabatt.
Jag har överfört löven jag hittat till silverplåt, sågat ut dem, bearbetat ytan, format och patinerat dem. De minsta och ömtåligaste löven har jag fört över till emalj.
Trots olika ursprung och utseenden så samsas löven jag samlat på olika platser i världen i mina smycken."
Nutida svenskt silver, Västmannagatan 49, Stockholm.
Öppettider:
torsdag – fredag 12 – 18
lördag 11 – 16
www.nutida.nu
Välkomna!
English version:
On Saturday February 17 is the opening of my exhibition "Folium" at Nutida Svenskt Silver in Stockholm. I will show jewelry inspired by leaves. The exhibition ends on March 10.
"A few years ago I lived with my family in another country. Every day I followed my children to school. Different kinds of trees grew along the way and I followed their changes through the seasons. I started collecting leaves, both from the trees and from the weeds that grew under them. As soon as I found an interesting shape I saved it. Back in Sweden I continued collecting leaves and I also found many more when travelling around the world. Everything was saved between the pages of newspapers.
I discovered that the same shapes can be found on leaves from different places in the world. Similar shapes can be found on weeds and on garden plants. In some areas a certain plant will grow exclusively in the wild and it would be weeded out if found in a garden. Somewhere else the same plant is taken care of in a flowerbed.
I have transfered the leaves I found through the years to sheet silver and sawed them out, textured them with rolling mill and sandpaper to give the surface structure, dapped and patinated them. The smallest and most delicate leaves have been transfered to enamel.
Despite their various backgrounds and statures, the leaves that I have gathered from different parts of the world are now living together in my jewellery."
Welcome!